Police personnel duty demands odd hours working, spend sleepless nights, run-chase the anti-social elements, protect government, citizens property, maintain peace and harmony in the society. To perform all these activities effectively, Police need to be fit, agile, healthy & full of energy opined Dr. Devagouda, Secretary of the Indian Medical Association & Senior Orthopedic Surgeon of Shree Ortho & Trauma Centre, Belagavi. He was interacting with Police personnel recently at Karnataka State Reserve Police Training Centre at Mache.
In his deliberations, Dr. Devagouda stressed that 'Healthy living' means both physical and mental health are in balance, a change (good or bad) in one directly affects the other. In his presentation, he has demonstrated that young police personnel is becoming victims of Diabetes, Hypertension. He urged the participating delegates to lead a healthy life to prevent the creeping into chronic diseases in their life. He gave simple tips like regular exercise, walking, a good nutritious diet, adequate rest will usher better health. You must also know how to handle stress in your duty schedules. He highlighted that meditation, yoga, deep breathing exercises can improve the quality of life and bring freshness to your activities.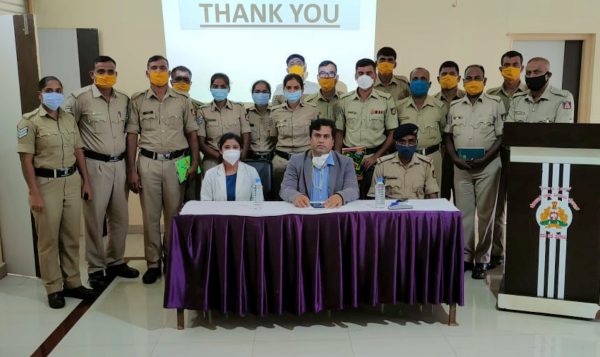 Dr Devagoud said the police duty is demanding & challenging, to discharge duty effectively he advised police to remain positive, fit which makes them stronger. He also cautioned that consumption of alcohol, smoking & chewing tobacco products will have bad repercussions on your health. He also recommended the police staff to spend sufficient time with their family, kids, socializing is also a good stress buster. In his closing remarks, Dr. Devagouda said it is not the police only are under stress we doctors; the medical fraternity and every segment of the society are under one or the other way stressed.
Dr. Laxmi Yammi, presented on the importance of Nutrition, Diet & healthy living. She counseled to limit the use of three poisons that are found in every kitchen they are salt, sugar, maida. Dr Laxmi advised adding fiber-rich food, which can be found in fruits, vegetables, beans, whole grain products, and nuts. She also said to drink an adequate quantity of water to remain hydrated all the time. She advised to rest in between work schedules to recharge for other tougher assignments.
Over 50 Police Staff were present on the occasion. Police Officers thanked Dr. Devagouda and the team for enlightening & bringing new thought process among police staff.