India is a land of colorful cultures, festivals, and Carnivals. The country has diverse dietary habits where salt, food colours and spices are used extensively. Indians are fond of eating and consume foods rich in salt. Indians like Samosa, Kachori, Parotha, Spicy veggies, Non-veg preparations, Idli, Dosa, Chips other namkeens etc are rich in salt content and frequently consumed in functions or cultural events and even daily. Indian population consumes very high salty foods like seafood, soya, vinegar, tomato sauces, soup mixes, curry pastes, curry masalas, pickles and chutneys, papads have a high salt presence.
Adding excess salt during cooking and sprinkling during consumption is the main culprit of daily salt burden in India. In the fast-paced life, our hunger for fast, convenient and takeaway foods has immensely increased. Mega markets are loaded with foods like processed and ready to eat. School children are obsessed with outside eating and home delivery food items have contents of high salt. None of us are aware of how much sodium/salt we are actually consuming. Statistical information regarding salt consumption is unavailable in our country. Salt, sugar, and fat need to be regulated which are present in abundance in fast foods.
Diets high in salt are now recognized as one of the leading risks to cardiovascular health in the world as they increase blood pressure. For an individual with hypertension, it is important to get their blood pressure to as low as the possible tolerable level and at the minimum it should be less than 140/90 mmHg (WHO, 2012). Sodium (Salt) reduction is probably the most feasible lifestyle intervention. Population-based intervention studies and randomized controlled clinical trials have established that it is possible to achieve significant reductions in blood pressure with reduced salt intake in people with or without hypertension.
Why is salt bad for your heart?
Salt makes your body hold on to water. If you eat too much salt, the extra water stored in your body raises your blood pressure. The higher your blood pressure, the greater the strain on your heart, arteries, kidneys, and brain. This can lead to heart attacks, strokes, dementia and kidney disease. Excess salt consumption increases your risk for osteoporosis, stomach cancer, kidney disease, kidney stones, an enlarged heart muscle, and headaches. Too much sodium can also affect your appearance.
What should my daily sodium intake be? The American Heart Association recommends no more than 2,300 milligrams (mg) a day and moving toward an ideal limit of no more than 1,500 mg per day for most adults.
Salt and your health
High salt intake impacts the body and your health in many ways and is linked to conditions other than high blood pressure such as:
• heart failure/heart attack
• kidney problems and kidney stones
• edema (fluid retention)
• stroke
• left ventricular hypertrophy (thickening of heart muscle)
• osteoporosis.
High blood pressure is the leading cause of premature mortality worldwide. Reducing salt intake lowers blood pressure and blood pressure-lowering reduces vascular disease. There is a very high likelihood that reducing dietary salt intake will prevent vascular disease and no evidence to suggest it will cause harm. With average population salt consumption levels typically 5-10 times greater than physiological requirements, even moderately effective community-wide salt reduction programs offer the potential for very large health gains. This opportunity has been recognized and adopted by the World Health Organization as a priority action to combat chronic diseases.
There is a strong agreement among experts that dietary salt intake should be reduced, targeting average population levels less than 5 g per day. Sustained and concerted efforts should be made to raise public awareness regarding the harmful effects of excessive salt intake. A modest reduction in dietary salt could substantially reduce cardiovascular events and medical costs and should be a public health target in the present scenario of the nation.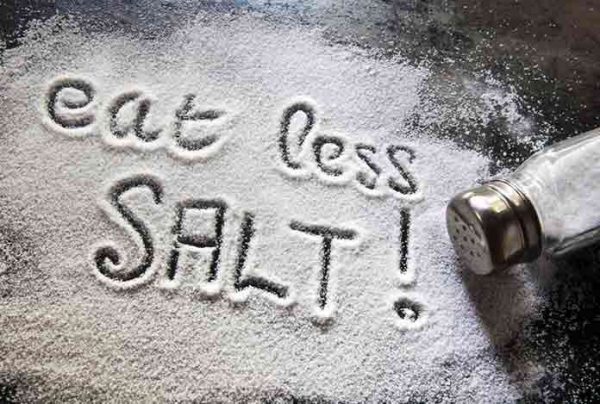 However, experts warn that not consumption of salt has also adverse effects like loss of energy, nausea, headache, and confusion, and cramps etc.
International recommendations suggest that average population salt intake should be less than 5 gram/day (WHO, 2007).
The recent global burden of disease study reports excess salt intake to be the 7th leading cause of mortality in South East Asia Region which is much higher than in rest of the world (11th globally), highlighting the adverse impact of high intake in countries like India (Lim et al., 2012).
Conclusion: Excess salt intake increases Blood Pressure and a higher risk of Heart Disease. By bringing salt consumption to as low as 2-3 gms per day you can reduce the burden of heart disease in the country. Low Salt diet is need of the hour and all those who read and please forward to a large number of Indians and help to reduce the burden of heart disease.
About the Author: Pramod N Sulikeri
Transplant Coordinator at KLES Dr. Prabhakar Kore Hospital, Belagavi.
(M) 98443 66188