Health, happiness, building confidence in patients are the hallmarks of the good doctor said Dr. Pramod Jog, Senior Pediatrician, D Y Patil, Medical College, Pune. He was speaking after inaugurating the National Medical undergraduate conference at KLE Convention Centre. He called on the budding medicos to get an insight into the life of a doctor and treat patients with compassion and derive satisfaction in treating patients.
Doctors in India work for more than 12-14 hrs and are under tremendous stress and pressure. He advised the medicos to be simple, humble, smile a lot and retain childish qualities and give quality time to families and children. He gave the prescription to young medicos like; Exercise, stress management, playing, developing a hobby and socializing should be part of their daily routine.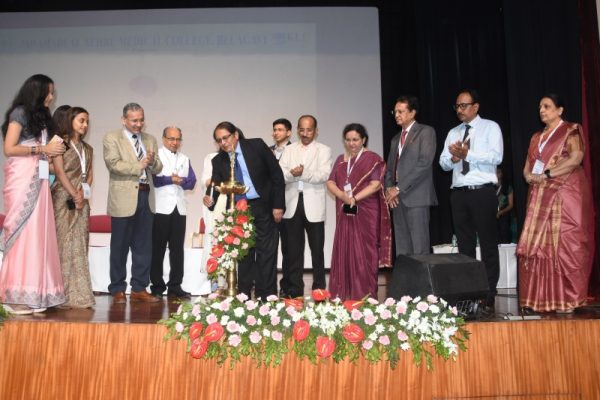 He called on the doctors to develop strong communication skills and explain complex medical jargon in simple language as medical terminology is poorly interpreted by patients and their relatives. Counseling to patients/attenders is paramount importance and advised the participants to gently look into the eyes of the patient which will still confidence said Dr. Jog.
Presently patient-doctor relation is not in a happy state, he advised a strong patient-doctor relation to be built on mutual respect and trust. Ethics is the hallmark of the noble profession and advised the young medicos to concentrate more on ethoscope as much as your stethoscope.
Dr. Vivek Saoji, Vice-Chancellor, KAHER, Dr. V A Kothiwale, Registrar KAHER, Dr. V D Patil, Dr. N S Mahantshetti, Principal, JN Medical College Dr. R S Mudhol, Medical Superintend and other dignitaries were present on the occasion.