Union Textiles Secretary Mr Ravi Kapoor chaired an emergency joint meeting of officials and industry representatives on 18th March 2020 to assess the availability of protective wears for use by health professionals while attending to novel coronavirus patients. Then the country was facing an acute shortage of PPE (Personal Protective Equipment) Kits and was totally dependent on Import from China. PPE kit consists of a mask, eye shield, shoe cover, gown, and gloves, which doctors and healthcare workers wear during the treatment of COVID-19 patients. Initially, India imported PPE kits from China, part of the supplies (PPE) from China which were proved to sub-standard, did not meet the safety standards and were health hazard for the Corona Warriors, based on these reports ICMR rejected the Chinese imported kits. In the month of March, Medical fraternities across India put across their difficulty to treat COVID-19 patients without PPE kit. Then Indian production of PPE Kit was 'Zero'. This was the time when COVID-19 cases were on the rise, and there was an urgency to import PPE kits for healthcare workers on the frontline dealing with the pandemic.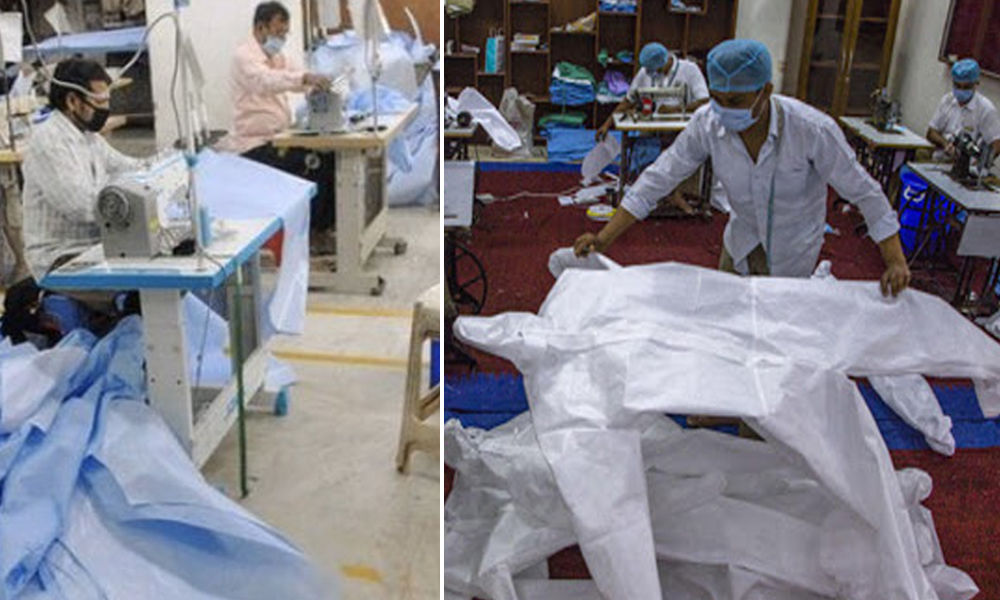 A nationwide call from Prime Minister, Narendra Modi for 'Atmanirbhar' Bharath and 'Vocal for Local'. The Indian textile industry rose to the occasion and turned into PPE manufacturing mode. Hindustan Lifecare Limited (HLL), is the single-window procurement agency for the hospitals and healthcare organizations under the Ministry of Health & Family Welfare. It has come up with quality guidelines on the stringent rules on how to manufacture PPE kits. As per the guidelines Arvind Ltd, Shahi Exports, Matrix Clothing, along with Paragon Apparel are some of the 600 companies are into making PPE kits in India since May, 2020.
The resilient Indian Industry with the 'Atmanirbhar' spirit embedded has resulted in India exporting mammoth 23 lakh PPE kits to 5 countries including the US, the UK and the UAE in July after the government relaxed export norms and this has substantially helped the country to position itself in the global market of these kits, the Union Health Ministry said. Now, India is the 2nd largest manufacturers of PPE kits in the world only next to China.
From Zero to Hero PPE Kit Industry story is worth emulating to all the Industries and individuals. This is time to ramp up our work culture and bring laurels to the nation & fulfill the dream of 'Atmanirbhar' Bharath.
Author: Dr. Pramod N Sulikeri, Ph.D