Lake View Foundation & Rotary Club of Venugram, Belgaum has jointly organized 3rd edition of the Belagavi Half Marathon, Run for Health & to raise funds for corona warriors. The event is organized on the occasion of Gandhi Jayanthi on 2nd October at 6.45 am from CP.Ed. ground. This run is in support of Corona warriors in particular "BioMedical Wate Management Staff". A bare minimum of Rs.250/- is a registration fee, which will go for charity.
A bare minimum of participants will take part in the run due to COVID-19 pandemic restrictions. Dr. K S Mane, MD & CEO of Lake View Hospital speaking to myarogya.in said very few invitees have been asked to take part in the run which will start from CP. Ed ground at 6.45 am. Marathon will pass through Hanumanagar double road via Hindalga Ganesh Temple and will culminate at CP.Ed grounds. The organizers are driven by a noble cause of donating the funds for charity in particular to Bio-Medical Waste Management Staff who are important members in the fight against Corona.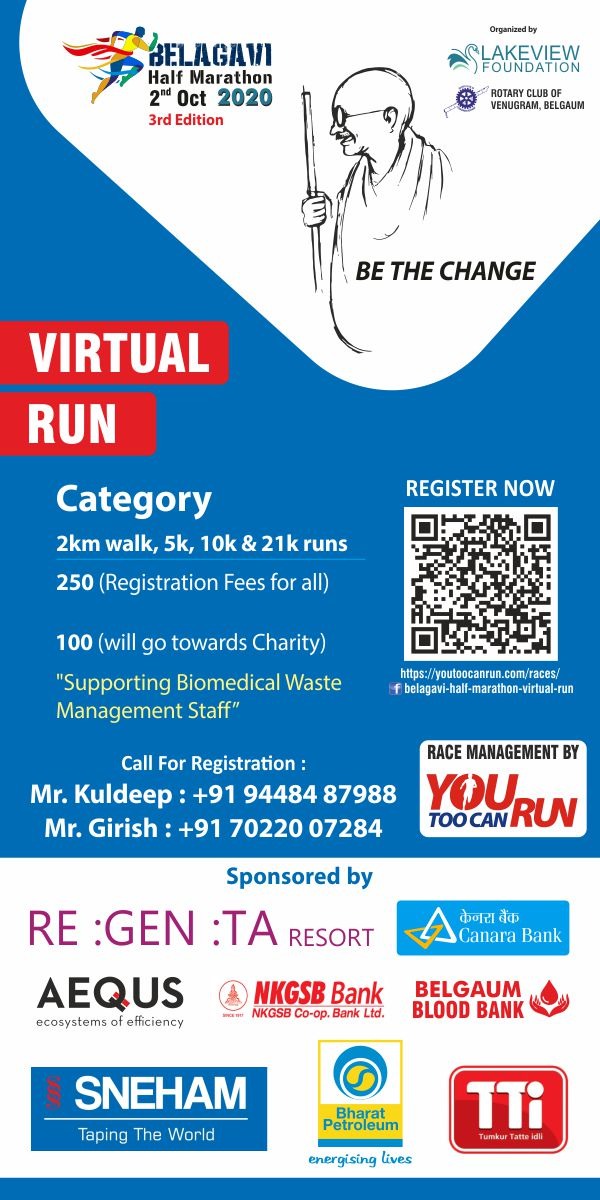 Belagavi citizens can take part in the walk/run in their own localities/grounds by not crowding and following social distancing norms advised Dr. K S Mane, MD & CEO of the Lake View Hospital. Further, he requested citizens to register for the walk/run and e-certificates will be issued to all registered participants.
For registration & further inquiry call Mr. Kuldeep 94484 87988/ Mr. Girish 70220 07284. For registration visit youtoocanrun.com