Launches its 53rdcentre in Hubli Centre~
Hubli, 27th April 2022: Nova IVF Fertility (NIF), one of India's leading fertility & IVF chains, announced the expansion of its footprint in Hubli today. Located in the city,the Hubli centre of Nova IVF Fertility will help couples get access to state-of-the-art fertility treatments with latest technologies and a team of well experienced IVF specialists and Embryologists. With this, Nova IVF Fertility aims to continue its expansion to Tier 2 and Tier 3 cities, towns.
Addressing the gathering Mr Shobhit Agarwal, CEO of Nova IVF Fertility said "At Nova IVF Fertility, we have always strived to achieve excellence in fertility treatments and our main aim is to make these accessible to all couples, irrespective of where they reside. By expanding our footprint in Karnataka and Hubli being our 53rd centre in country, we will be catering to the needs of couples not just from the city but also peripheral regions like Dharwad, Kundgol, Haveri, Ranebennur, Gadag and Bagalkot among others. Our dedicated and skilled team of clinicians, embryologists, psychological counsellors, from Hubli are thrilled to provide their expertise to couples across this region to fulfil their dream of Parenthood"
The Nova IVF Fertility in Hubli is a comprehensive fertility treatment centre, that has a well equipped with embryology lab with latest technologies and follows international standards for delivering fertility treatments. Apart from providing services like In-vitro Fertilisation (IVF), the centre also offers services like Intrauterine Insemination (IUI), Intracytoplasmic Sperm Injection (ICSI), Pre-genetic Testing (PGT), Semen Analysis, Testicular sperm aspiration (TESA), Percutaneous Epididymal Sperm Aspiration (PESA),Microsurgical Testicular Sperm Extraction (microTESE), Cryopreservation, blood tests and others to conduct Fertility assessments.
Dr. Vinuta Kulkarni, Fertility Consultant at Nova IVF Fertility Hubli said,There is a stigma associated around fertility issues which prevents couples from seeking timely help. Infertility is a condition that affects both men and women equally approximately 40% both contributing towards it. There is a rise in infertility problems due to various environmental and lifestyle issues.  We have observed that there is a rising male factor as a cause for infertility. It may be due stress, obesity and addictions like smoking, tobacco chewing or alcoholism. Unfortunately, due to fear of societal pressure couple do not come forward for evaluation. It's equally important to evaluate both partners to come forward and plan a treatment which suits the couple best and help to have a baby. At Nova, we have various   treatments available with all recent technology to address the issue and treat the couple.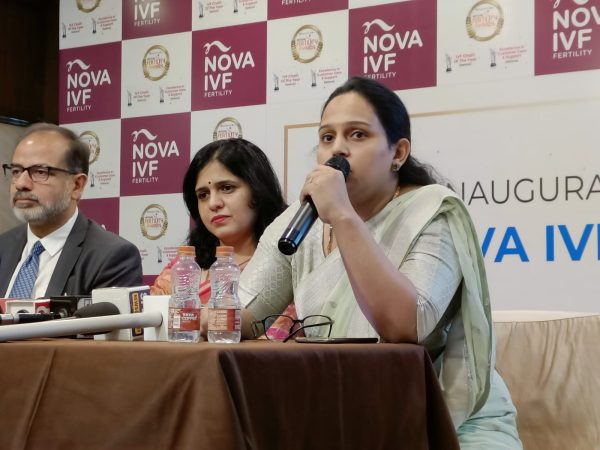 Further adding, Dr. Trupthi Ganapathi, Fertility Consultant at Nova IVF Fertility Hubli said, Infertility takes a toll emotionally on the couples leading to anxiety, social isolation. Family and Friends need to be supportive towards them when undergoing fertility treatments. We need to remove misconceptions like infertility is always woman's fault, young couple cannot be infertile, you can't conceive after 35yrs. The lack of awareness, testing centres adds up to the already existing burden of infertility in the society. A thorough evaluation of male and female partners helps in identifying the cause. Assessment of male partner includes tests like a semen analysis, advanced tests like testicular biopsy etc. Female evaluation includes gynaecological examination, blood tests, sonography etc.Couples need to come forward for fertility tests, so that the fertility specialist can make an appropriate treatment plan and timely intervention can be made for the best results.