Newborn baby with Critical Block of Aorta given a new lease of life at SDM Narayana Heart Centre, Dharwad
Dharwad, 22nd October, 2020: SDM Narayana Heart Centre, Dharwad has added another feather to its illustrious medical capability by saving a 20-day old baby suffering from a critical cardiac condition. The baby's condition was treated using a complex cardiac intervention called left carotid artery cutdown followed by balloon dilation of the coarctation segment.
Hailing from Hubli, Baby of Mubeenajust 20 days old weighing 2.3 Kgs was bought to SDM Narayana Heart Centre, Dharwad owing to a circulatory shock. On thorough evaluation, it was diagnosed that the baby had suffered from circulatory shock due to a major block in the great artery of the heart. The 2D Echocardiography confirmed that the baby had a 95% block of Aorta (Coarctation) with severe Left Ventricular (LV) dysfunction. Though challenging, the cardiac team took up the case. Owing to the criticality and complexity of the baby's condition she was recommended a complex and rare hybrid procedure called Left Carotid Artery Cutdown followed by Balloon dilation of Coarctation Segment. The team of doctors consisting of Dr. Arun K Bableshwar-Consultant Paediatric Cardiologist, Dr.Ravivarma Patil, Senior Consultant & Chief Cardiothoracic Surgeon (Adult & Paediatric) and Cardiac Anaesthetists successfully performed the procedure. The treatment opened up the major block in the artery and that made the baby immediately recover from the shock.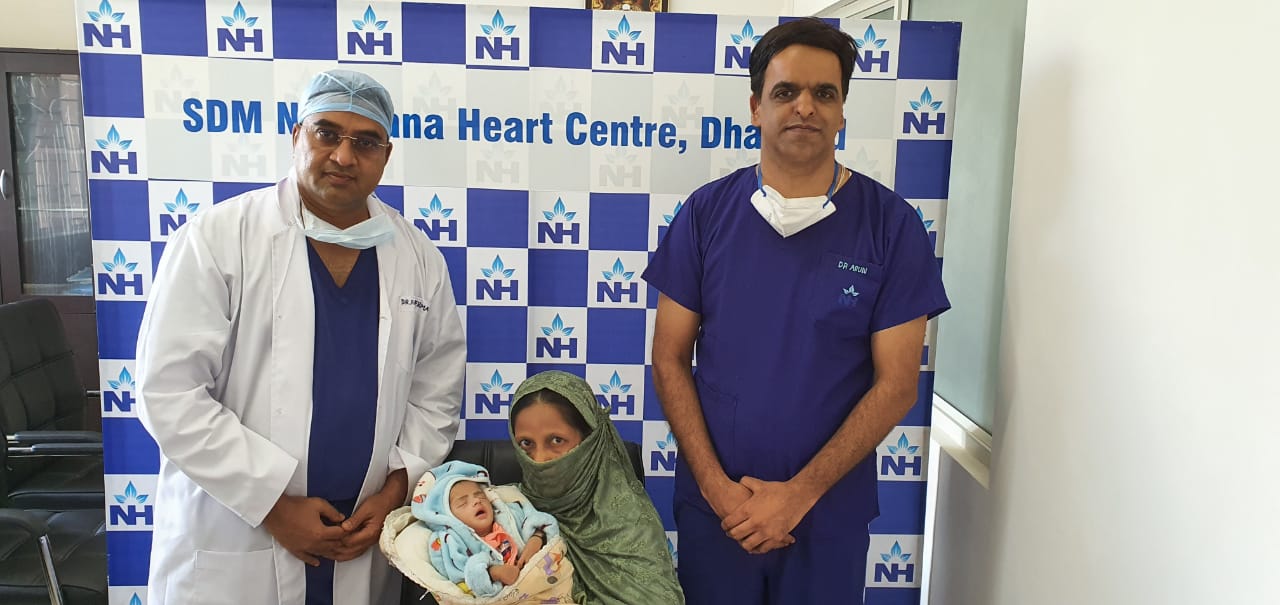 Speaking about the condition of the patient, Dr.Arun K Bableshwar – Consultant Paediatric Cardiologist, SDM Narayana Heart Centre, Dharwad, said, "Coarctation of the aorta is a birth defect in which a part of the aorta is narrower than usual. If the narrowing is severe enough and if it is not diagnosed, the baby may have serious problems and may need surgery or other procedures soon after birth."
Elaborating about the case,Dr. Ravivarma Patil-Senior Consultant & Chief Cardiothoracic Surgeon, SDM Narayana Heart Centre, Dharwad, said, "One of the biggest challenges was the age of the baby. The baby was just 20 day old and when you perform surgeries on such young babies it is a high-risk one. Due to small weight of 2.3 Kgs of baby, it was difficult to access the neck artery (3 to 4mm diameter) for cutdown and to restitch it after the procedure. The baby also could have brain hemorrhage as a complication. Such procedures require a dedicated and experienced team. We are glad that we could save the baby."
After 3 days of stay in the ICU, the baby was discharged on 21-09-2020 and the baby is living a normal life.
Sharing his joy, Mr.Mohammed Farook, father of the baby, "We had almost lost all our hope till we met the doctors at SDM Narayana Heart Centre, Dharwad. I am extremely thankful to the doctors at SDM Narayana Heart Centre, Dharwad, for saving her, they have actually ensured and offered her the best in class treatment owing to which she was able to recover so fast."
Equipped with the services of a full-time pediatric cardiologist, pediatric cardiac surgeon as well as infrastructure facilities like ECHO, Cath lab, Cardiac OT and paediatric ICU facilities, SDMNH Dharwad has emerged as a centre of excellence for Paediatric cardiac care in Northern Karnataka. The centre also has facilities to treat all cardiac ailments among adults as well.
About SDM Narayana Heart Centre:
With all super-speciality cardiology care & cardiac surgery facilities that the medical world offers, SDM NH is a modern 24/7 heart centre with CCU, CITU and General Wards where we continuously strive to provide heart care solutions to the people of North Karnataka. Equipped with a dedicated cathlab, OT supported by a team of highly skilled, qualified & experienced Cardiologist & Cardiac Surgeons to meet any heart emergency.
Balloon Dilation of Coarctation Segment procedure
For More Details: 88844 -18727