India is emerging as a major health care destination for foreigners and country is developing as health care hub. The burgeoning costs and a long waiting list has made the needy foreigners look at Indian Hospitals. Indian Hospitals, expert doctors stood test of the time and have offered state-of-the-art facilities and medical services at bare minimum cost to the foreigners.
Tourism Ministry of India acknowledged an estimated revenue of Rs. 1,35,193 crore in 2015, Rs. 1,54,146 crore in 2016 and Rs. 1,77,874 crore in 2017 has come from Medical Tourism. As per the report of FICCI and IMS Health- India has very high potential global medical tourism market.
It has been estimated that India's medical tourism industry could be worth $9 billion, and account for 20% of the global market share by 2020. It is estimated that 2.34 Lakh and 4.27 Lakh foreign patents visited Indian Hospitals in the year 2015 and 2016 respectively. Bangladesh and Afghanistan stood in top position in availing treatment in India. Medical tourists from Oman, Maldives, Uzbekistan, Sudan, Iraq, and Yemen flock India for treatment.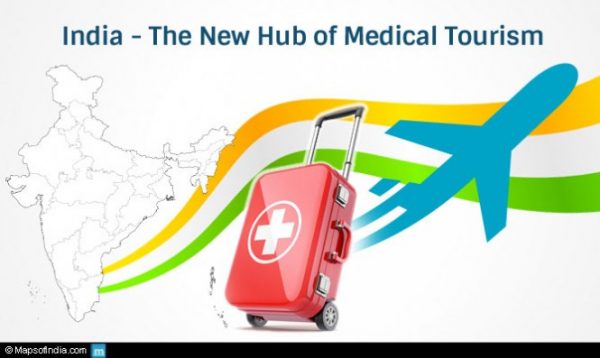 What makes India best Medical Tourist destination:
Affordable treatment & easy appointment with Specialist consultants.

VISA processing is easy for medical purpose.

Immediate initiation of Investigations, treatment or surgeries without waiting.

Hospitals provide global standard quality technology, techniques and medical services

Post-treatment recovery provided to the patients with therapies like Physiotherapy, Ayurveda, Naturopathy, Acupressure and Yoga.

Post-treatment comfortable travel, visit and stay in historical places at an affordable cost (Tourism trips are organized by Hospitals).

India has emerged as a safe place in the last couple of years. The skill of Indian Doctors, easy conversation in English, homely & enterprising Hospital Staff has made the India hot destination for medical tourism.
About the Author: Mr. Pramod N Sulikeri, Manager Credit Cell, PRO & Transplant Coordinator, KLES Dr. Prabhakar Kore Hospital & MRC, Belagavi. 0831-255-1264/1979.