ICMR-National Institute celebrated its 16th Foundation Day on 20th May 2022 at its premises in Belagavi. It was on this day in 2006 that the Institute, then known as Regional Medical Research Centre (RMRC) was inaugurated by Late Shri. B.Shankaranand, Former Union Minister of Health along with Late Shri Suresh Angdi, Former MP of Belagavi. To mark the occasion, 'Foundation Day B.Shankaranand Oration' named after the Late Minister, on 20thMay 2022. Prof.(Dr.) Tanuja Nesari, Director of All India Institute of Ayurveda, New Delhi and CEO of National Medicinal Plants Board delivered the oration on "Scope and Challenges of Research in Traditional Medicine". Prof.(Dr.) R.S Mudhol, Hon'ble Vice Chancellor, BLDE (Deemed) University, Vijayapura, Karnataka,Chaired the session. The program was attended by eminent scientists, faculty, students and medical professionals from institutions of both modern and traditional systems of medicine.
Dr.Subarna Roy, Director of ICMR-NITM in his address highlighted mission and vision of NITM. Dr. Roy expressed his deep sense of gratitude to Director-General of ICMR Prof. Balram Bhargava he said that the credit for making the building a reality goes to him. He also thanked former Officers-in-Charge of RMRC and former Director of NITM. Dr. Roy talked about the increase in scientific strength at the institute andthe varied subject expertise made available by ICMR in the last 5 months that resulted in creation of new departments and expansion of activities. Dr. Roy said that NITM has started contributing in various ways at the National level and looks forward to active collaboration with reputed institutions in and beyond the region.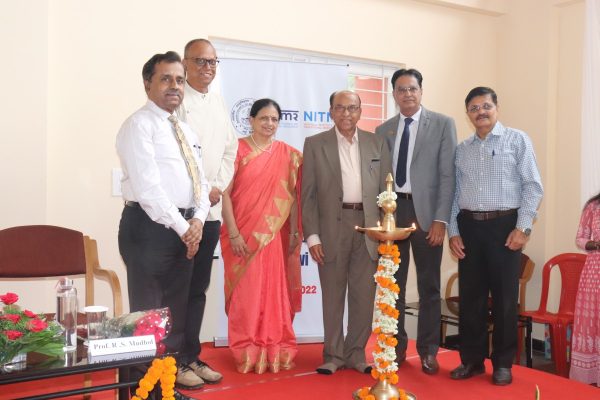 Dr.Subarna Roy informed that NITM is going to complete 5 years since becoming a National Institute on 20th June 2022 and a series of scientific activities are queued up for the month.
Prof. Tanuja Nesri Director All India Institute of Ayurveda New Delhi & CEO National Medicinal Plant Board talked about scope, opportunities and challenges in traditional medicine research in her oration. She emphasized the need for scientific validation of traditional medicine practices & integration in to mainstream healthcare for public good. She highlighted the various initiatives & schemes of government of India for the research & development of traditional systems of medicine, conservation, good practices of cultivation & collection of medicinal plants, especially endangered species. She called for collaborative efforts from the scientists and students of all the streams of health sciences to join hands to explore for best use of traditional knowledge for betterment of global health with local traditions.
Prof.(Dr.) R.S.Mudhol, Hon'ble Vice-Chancellor BLDE Deemed University Vijayapura spoke about the scope and need for research collaborations. He emphasized upon the availability of experienced local human resources for research and development. He highlighted the significant developments in research infrastructure and ecosystem and expressed hope that NITM would play a major role to cater to the health needs of community through its collaborations with other institutes around the region.
The function was attended by stalwarts in medical research and teaching that included Dr.H.B.Rajasekhar, Dr.F.V.Manvi, Dr.M.V.Jali, Dr.Ramesh Paranjape, Dr.Godbole, Dr.Rajendra Bhandankar, Dr.M.S.Ganachari, Dr.Prakash Diwan, Dr. A.D.Taranali, Dr.Preeti Kulkarni, Dr.Sangeetha Moreshwar, amongst others.