It is standing testimony of 'Nari Shakti' as girls outperformed boys in the 11th convocation of KLE Academy of Higher Education & Research, Belagavi. As many as 27 out of 35 gold medals were bagged by girls and only 8 gold medals were bagged by boys. It proves girls are setting very high standards in all walks of life opined an academician par excellence Dr. Nageshwar Reddy, Chairman of the Asian Institute of Gastroenterology, Hyderabad.
He was speaking as Chief Guest of 11th Convocation ceremony of the KAHER at KLE Convention Centre, Belagavi. In his opening remarks he paid rich tributes to the tireless effort of KLE Society management under the leadership of Dr. Prabhakar Kore, Chancellor of KAHER for creating world class medical infrastructure and eco-friendly & green campus which provides excellent learning ambience. Speaking to students, their parents & faculty in the convocation, he stressed the practice of medicine is perfect culmination of art, science and a dosage of empathy.
Dr. Reddy highlighted that human life expectancy is largely dependent on timely immunisation, accessibility to clean drinking water, basic sanitary facilities, education, economic empowerment and the impact of modern hi-tech medicine has very little effect on humans how long they live.
He advised young medicos to remain humble, display empathy and demonstrate great respect to patients. Your convincing, caring words, your gentle touch act as a super pain reliver to most of the patients shared Dr. Reddy. You may be out of medical college but learning is a continuous process and you must catch-up with the recent advancements in medical technology.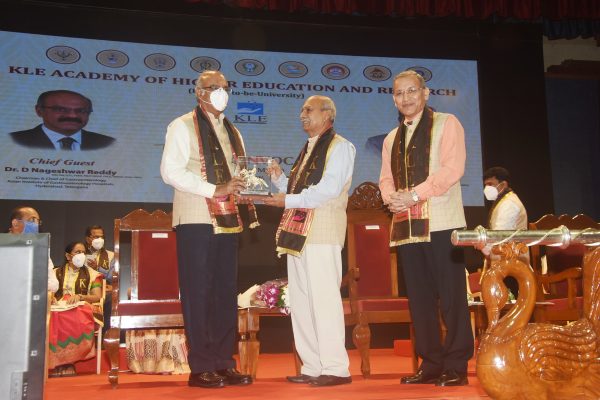 A medico will transform from good doctor to great doctor if he develops skills, attitude and has quest for knowledge. Ultimate success is derived from sweat, determination and hard work. He urged the young pass outs to develop impeccable communication skills and explain complex medical terminologies in simple lucid language to the patients and their attenders.
Your parents have made great sacrifices for your education remember their tireless effort in shaping your future. He called on young graduates to visit your alma mater and show respect to your teachers.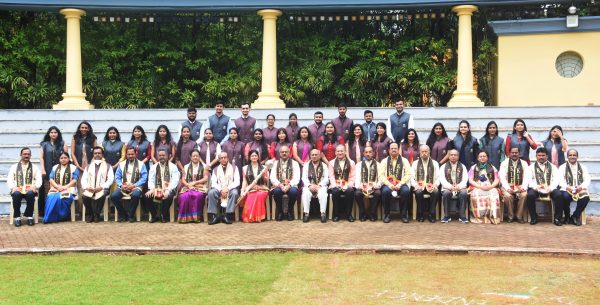 Dr. Vivek Saoji, Vice Chancellor of the KAHER in his annual report shared that hybrid mode of teaching amidst COVID-19 pandemic, use of appropriate technology in teaching has given encouraging results. He further stated over 45,000 citizens are vaccinated and all the teachers, students of KAHER are vaccinated. In the 11th convocation 1531 degrees, 35 gold medals, 18 Ph.D, 7 post-doctoral, 462, Post-graduates, 942 undergraduates, 75 PG Diploma, 10 certificate course, 10 Fellow hip & 6 Diplomas were awarded.
Dr. V A Kothiwale, Registrar KAHER, Dr. N S Mahantshetti, Principal, J N Medical College, Dr. Alka Kale, Principal, KLE Dental College, Dr. B G Desai, Secretary, KLE Society & Dr.Jyoti Nagmoti, Controller of Examination, members of the Board of Management of the University were present on the occasion. Dr. Prabhakar Kore, Chancellor of the KAHER Presided over the function.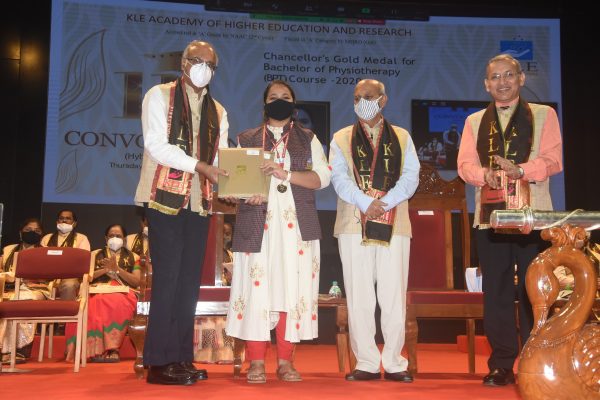 Gold Medals:
Dr. Mohini Agarwal of J N Medical College bagged 3 gold medals for securing highest marks in MBBS.
Dr. Akshata S Ladagi bagged from B M Kankanwadi Ayurveda College bagged 3 gold medals securing highest marks in BAMS
Rutuja Baloli, KLE College of Physiotherapy bagged 2 gold medals for securing highest marks in BPT course.