Never ever attach too much importance to health issues and problems of daily life. Accept them as challenges and overcome the problems with bold initiatives and achieve success in life opined Monika Kakkar, the story writer and social worker. She was speaking after inaugurating the 19th Diabetic children summer camp at KLES Dr. Prabhakar Kore Hospital. She also called on Diabetic children to adopt a positive attitude and actively involve in creative activities.
Mother is the pillar of strength in shaping the child. Mother is a teacher, friend, and source of inspiration who sacrifices her all worldly comforts to bring out best in the children said Mrs. Vrunda Kalwad, Social Activist. She appreciated the efforts of Dr. M V Jali & Dr. Sujata Jali in offering best of the treatment facilities and services free of cost to the underprivileged Diabetic children for 19 years.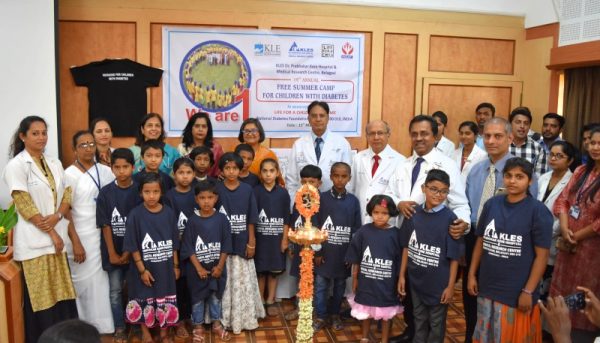 Dr. V D Patil, Registrar of the KLE University & Senior Pediatrician expressed that, management of juvenile diabetes is a challenge to the medical fraternity and parents. He advised the parents to motivate the children to take continuous treatment and encourage them to cultivate a good lifestyle. Sedentary lifestyle, excessive usage of smartphones, Television addiction and consuming junk food has emerged as the major factors in escalation in juvenile diabetes. He congratulated Dr. M V Jali for the professional support given to all the diabetic children and their parents.
Diabetic children can lead a normal life like any other child and will excel in curricular and extracurricular activities said Dr. M V Jali, the Director of the KLES Diabetes Centre. He urged the parents to treat the diabetic child as normal and prepare him/her to face the challenges of the world. The KLES Diabetes Centre is relentlessly working to give a better quality of life, support and encouragement to all the Diabetic children. Juvenile Diabetic should lead a healthy and energetic life is the motto of the KLES Diabetes Centre said, Dr. M V Jali.
The KLES Diabetes Centre has over 420 registered diabetic children and amongst them, 350 children are receiving free insulin therapy since 8 years said Dr. Sujata Jali, Pediatric Diabetologist.
Manoj Malbasari, Yeshaswini, Shilpa Katti received a gold medal for best managing their diabetes status. Drawing, dance, music, quiz, yoga, meditation and information regarding diet were part of the day-long program.
Dr. R S Mudhol, spoke on the occasion. Dr. Nandita Pawar compared the program and Dr.Sanjay Kambar proposed a vote of thanks.