India's well-known philanthropist TATA EDUCATION and Development trust (Mumbai) has donated covid relief materials (PPE kits and N95 masks) worth Rs 52 lakhs to KLE Dr Prabhakar Kore Charitable Hospital, for recognition of the relentless services rendered to treat the needy patients suffering from Covid-19 free of cost, under the leadership of Dr Prabhakar Kore, Chairman KLE Society.
The Lions Club of Belgaum was instrumental in bringing these materials to Belgaum under the guidance of Dr P R S CHETAN, Commanding officer, Civil Defense, Govt of India and Mrs Monica Sawant, Lions Club Belgaum.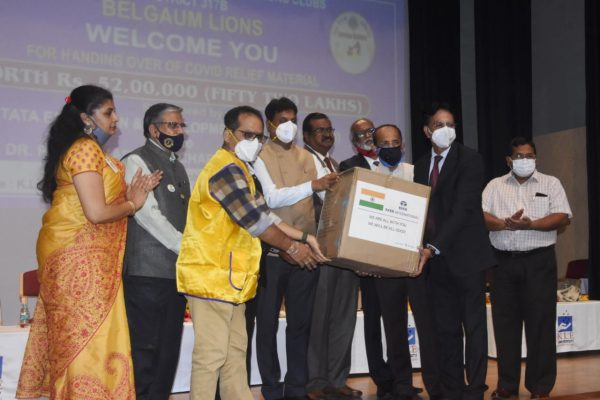 The materials were handed over to Dr R S Mudhol, Med Supdt, KLE Dr Prabhakar Kore Charitable Hospital in presence of Belgaum District commissioner Shri M G Hiremath, Dr V A Kotiwale, Registrar, KAHER (KLE University), Dr S V Munnyal, DHO, Belgaum, and Lions Dr Nagraj Bairy, Dr PRS Chetan, Shrikant More, Sugarland Yelamali. 
The function was presided by Lions District governor Dr Girish Kuchinad.
On this occasion Dr (Mrs) N S Mahantashetti Principal, J N Medical College and Vice Principals Dr Rajesh Powar, Dr Vishwanath Pattanshetti, Dr M V Jali, MD & Chief executive, KLE Dr Prabhakar Kore Hospital & MRC were also present.