The burden of Ischemic Heart Disease (Obstruction of blood flow in arteries) has drastically increased in the country hence the patients needing heart surgery has also substantially raised. The successful outcome of the heart surgery depends on the competency level of Surgeon and Skill, techniques of Cardiac Anaesthetist. Cardiac Anaesthetist plays a vital role in the Heart Surgery said Dr. V A Kothiwale, Registrar of the KAHER. He was speaking after inaugurating "CME in Cardiac Anesthesiology-2020" at KLES Dr. Prabhakar Kore Hospital. Pre-operative evaluation, intra operative management and post-operative care of the patient by Anaesthetists has better assured surgical outcomes opined Dr.Kothiwale.
Cardiac Anaesthetists have tremendous responsibility of maintaining hemodynamic stability of patient and they support and coordinates with surgeons to perform complex surgeries. Today's surgeons take up complex, challenging heart surgical procedures due to good anaesthetic backing said Dr. M V Jali, Medical Director of the hospital. He called on the participating delegates to learn the skills, knowledge, techniques of modern Anaesthetists from experts.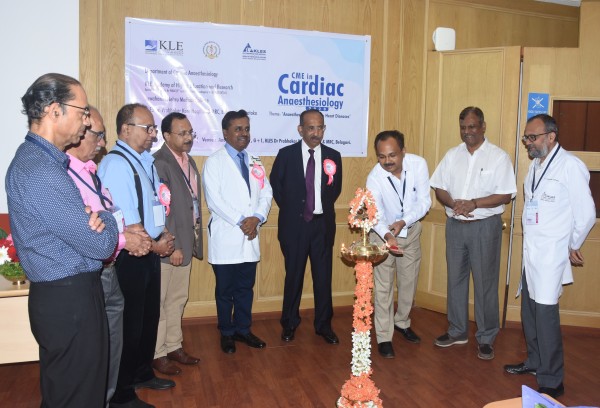 Dr. R B Nerli presided over the function. Dr. Anand Wagrali, Organising Chairman welcomed and introduced the Guests and Dr. Sharangouda Patil proposed vote of thanks. Dr. Richard Saldanha, Dr. Sameer Amber, Dr. Shantanu Shastri, Dr. Ranjith Karthekeyan, Dr. Nitin Mahantshetty, Dr. Samrat were expert resource persons of the day long CME. Over 100 delegates from Karnataka, Maharashtra and Goa were present on the occasion.