The word "CANCER" instigates chills to the patients and family members. It emanates gloom in the family, when a women folk the sole care taker of the family are inflicted with Cancer, the entire family is shaken. Unfortunately, more & more women in their prime age group are falling prey to "BREAST CANCER". Cancer of the breast is emerging as a major public health problem in India.
Cancer of the breast & uterus (cervix) are the most common cancers in women. Among women, the total number of incidence cases is estimated to be 7,12,758 in 2020 and likely to reach 8,06,218 in 2025. Breast cancer (2,38,908) is expected to be the most common site of cancer by 2025, followed by cancer in lung (1,11,328) and mouth (90,060).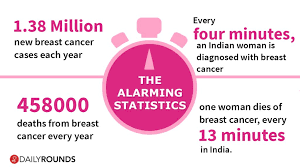 The Indian Women can beat the Breast Cancer if they learn the art and science of breast self-examination and carryout periodical self-breast examination. Early detection, initiating immediate treatment are the key factors to beat the breast cancer. Any suspicious lump, discomfort in the breast should not be neglected. Women particularly in middle age group should be careful and look out for extra growth (lump) in breast (Lots of videos available on YouTube. How to do self-breast examination?)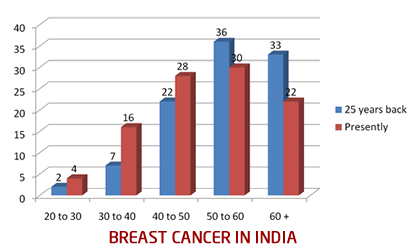 Breast cancer if detected early, and is in the localized stage (there is no sign that the cancer has spread outside of the breast) this stage is very much treatable and patients can live without much complications.
The probable factors that increase the risk of breast cancer are;
Weight gain
Lack of exercise
Alcohol consumption
Hormone replacement therapy
Oral contraceptive pill
Stress and shift work
Age and number of pregnancies affect the risk
A delay (or avoidance) of childbearing
A reduced duration (or avoidance) of breast-feeding
Frequent abortions
Family history of breast cancer
Breast cancer in one breast has increased risk of developing cancer in another breast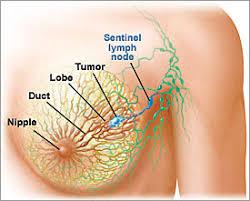 FACT SHEET (BREAST CANCER):
Breast cancer accounts for 14% of cancers in Indian women. Every four minutes, an Indian woman is diagnosed with breast cancer.
Breast cancer is on the rise, both in rural and urban India. A 2018 report of Breast Cancer statistics recorded 1,62,468 new registered cases and 87,090 reported deaths.
Cancer survival becomes more difficult in higher stages of its growth, and more than 50% of Indian women suffer from stage 3 and 4 of breast cancer. Post cancer survival for women with breast cancer was reported 60% for Indian women, as compared to 80% in the U.S.
Women can self-diagnose their condition and know of the presence of lumps or masses that suggest cancerous outgrowths. The very reason for a low breast cancer survival rate of women in India accounts from its lack of awareness and poor early screening and diagnosis rates.
One in twenty-eight Indian women is likely to develop breast cancer during her lifetime. It is more (1 in 22) for urban women than the rural group (1 in 60).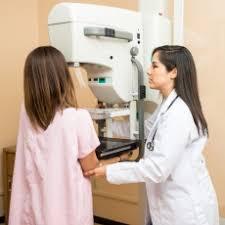 How is breast cancer diagnosed?
Breast cancer is detected either during routine screening, before symptoms have developed, or after a woman notices a lump. Most masses seen on a mammogram and most breast lumps turn out to be benign (not cancerous). When cancer is suspected, tissue for microscopic analysis is obtained from a needle biopsy/ surgical biopsy. Selection of the type of biopsy is based on multiple factors, including the size and location of the mass.
Treatment modalities includes, Surgery, Radio Therapy, Chemotherapy. It could be only one intervention or combination of all treatment options based on the size, location and stage of cancer.
70-80% of cancer patients are diagnosed at very late stage due to ignorance and fear of approaching Oncologist. Early detection of cancer has better results, less mental trauma and treatment becomes cost effective with better outcomes.
Ref:
Patrick S et al The breast cancer epidemic: 10 facts Linacre Q August, 2014; 81(3): 244–277
8.47% women in Belagavi suffering by breast cancer, Time of India, Hubballi, 30th Jan, 2015

Dr.Pramod N Sulikeri, Ph.D
Coordinator CVTS Department, KLES Dr. Prabhakar Kore Hospital, Belagavi.
For any query regarding Cancer treatment, send mail to myarogya.in @gmail.com
An appeal to beat the Breast Cancer: Myarogya.in appeals to all NGOs including Lions, Rotary, Giants club, Women Self-help groups, etc to increase access to quality breast cancer screenings, diagnostic and treatment services, and care for all women. We would also request for increase in government funding for breast cancer treatment & research.