Stand among storm; Dr. Jamsed Sonwala.
KLE University campus is the best, cleanest and the J N Medical College has most experienced and expert faculty and topmost teaching-learning infrastructure opined Dr. Jamshed Sonawala, Senior Critical Care Specialist from Mumbai. He was speaking after

inaugurating

the 37th Annual KAPICON-2019 at KLE Convention Centre, Belagavi.
The J N Medical College in particular and KLE University at large are involved in active research, international accreditations, joint collaborations with well known international research institutions.
Dr. Sonawala stressed that Critical care medicine is demanding, tough and challenging and the critical care Physician has to "stand among Storm" he quoted. He also called on young medicos to remain cool, calm in the midst of catastrophic emergencies. A Physician can tide over any crisis of medical emergencies if his/her academic basics are strong. He also called on medicos to develop a sense of anticipation to face any emergencies.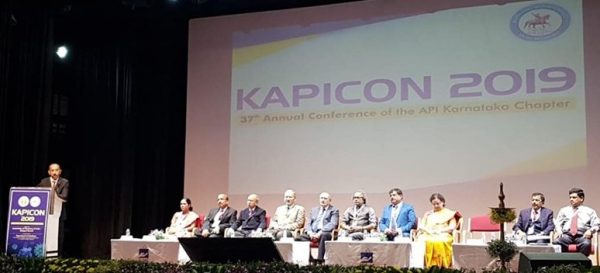 Dr. Jamesed Sonawala, Dr. Chikkmaga, Bengaluru, Dr. M R Prabha Adhikari, Mangalore, Dr. M V Jali, Belagavi were felicitated in the conference for enriching the medical science.
Dr. Vivek Saoji, Vice Chancellor, KAHER, Dr. G B Sattur spoke on the occasion. Dr. Vivek Saoji released handbook on epilepsy. Dr. V D Patil, Registrar of KAHER released Special issue of the conference. Dr. V A Kothiwale, Organising Secretary welcomed and introduced the guests. Dr. Rekha Patil proposed vote of thanks.
Dr. N S Mahantshetti, Dr. A A Pangi, Dr. Nagraj, Dr. Swami, Dr. Ramesh, and Senior Physician Dr. H B Rajsekhar were present. Over 750 delegates are taking part in 3 days annual conference.