Courtesy Deccan Herald
The process of registration of births and deaths in the hospitals across the city will be done in a simple way, with 10 establishments being selected on a pilot basis for registering the number of births and deaths on eJanma portal of the State government.
The direct registration process by the hospitals on the portal will prevent delay in getting registered manually by data operators of Belagavi City Corporation (BCC) and the applicants could get birth and death certificates on the same day of application submission.
The rate of mortality and natality in the State is being recorded on eJanma portal. All records from the year 2008 have been dumped in the data of the portal that had also affected in issuing birth and death certificates in the month of October and November.
The backlog of data entry and issuing pending birth and death certificates had made people wait for seven days. Now with the eJanma portal getting streamlined, the certificates are being issued on the same day, if the data has been entered in the portal.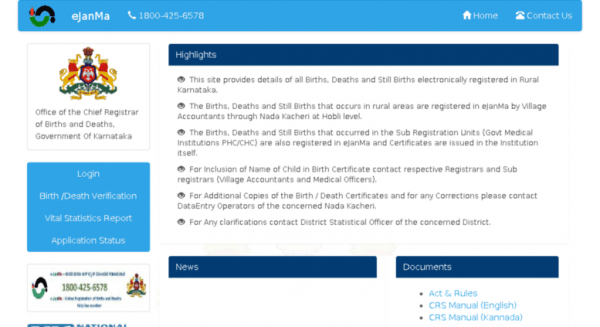 2,000 deliveries
BCC Health Officer Sanjay Dummugol said, an average of 2,000 deliveries are being reported in different maternity homes in the city with the majority of them being in private. Civic body records 22,000 to 24,000 deliveries in a month that includes mothers from the city, district, neighboring districts and also from Goa and Maharashtra.
Earlier, private maternity homes used to submit records of birth once a month or fortnight. Now it has been brought down to twice a week. A similar system has been adopted for deaths too. There had been a delay in issuing of birth and death certificates with eJanma portal busy with data entry from across the State. Data entry operators of BCC were also involved in election works, which had further delayed the issue of certificates, he said.
"To ensure people get birth and death certificates on time without waiting for long, applications were received in morning hours and certificates were issued in the evening in the month of December after seven days as data entry of the records submitted by hospitals had to be checked. Now, we have streamlined the process and certificates are being issued on the same day," he added.
'Avoid mistakes'
Dr Dummugol said, in terms to simplify the process further, people have been asked to avoid mistakes in mentioning the name, maternity homes/hospitals. Along with that, Aadhar cards of the parents should be collected and entered in the records to be submitted for registration of births, he added. Further 10 hospitals in the city have been selected on a pilot basis for registering births and deaths on the eJanma portal. They will be given the user names and passwords. Based on the results, the facility will be extended to other establishments; he said and added that approval for the pilot project has been expected in a weeks time.
Courtesy Deccan Herald