ICMR-NATIONAL INSTITUTE OF TRADITIONAL MEDICINE, DEPT OF HEALTH RESEARCH (GOVT OF INDIA)
Recent discoveries of large-scale fraud in conduct and reporting of scientific research have harmed the image of scientific research and enterprise in India. Rules and regulations framed to incentivize and promote research have been misused and exploited by various researchers and publishers for personal gains. Fake and predatory journals have mushroomed in recent times. Lack of awareness on what constitutes malpractice and fraud in scientific research, unclear rules and regulations on publications, desire for quick reputation have contributed to malpractices and unethical reporting of research outputs.
Agencies like the CSIR, DHR-ICMR, UGC etc have been quick to respond and formulate/modify regulations and guidelines to address the issue. Faculty in various universities, colleges, academic and research institutions need to comprehend the extent and dimensions of the problem, understand the present regulations and guidelines and take necessary steps, not only to prevent fraudulent conduct and reporting of research enterprises but also to make their work strong and trustworthy.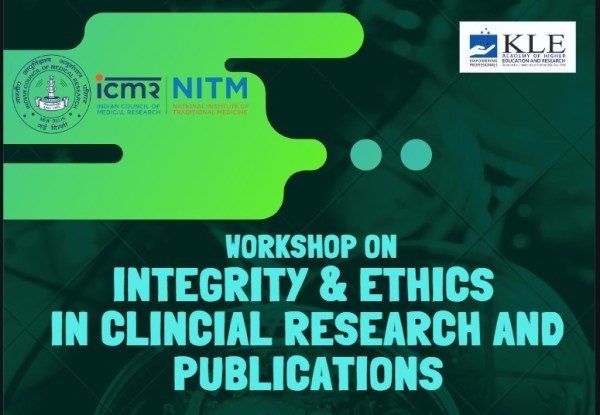 In an effort to achieve this objective, the ICMR-National Institute of Traditional Medicine is organising a one-day workshop on "Integrity and ethics in clinical research and publications" on 8th November 2019 at KLE's VK Institute of Dental Sciences with the support of Indian Council of Medical Research, New Delhi and in association with KLE Academy of Higher Education and Research, Belagavi.
The workshop has been designed to deal with the entire gamut of misconduct in scientific research related to health sciences in general and clinical research in particular. The target groups are clinicians and medical fraternity across the region that also involve faculty in the Multi-disciplinary Research Units (MRUs) and Model Rural Health Research Units (MRHRUs) of the Dept of Health Research, Govt of India. The workshop will bring together the policymakers and eminent scientists who are leaders in research entrepreneurship in India to speak and deliberate on the issue. The workshop will serve to sensitize research integrity and ethics, share knowledge and good practices and find ways for the betterment of research in India.