The global launch of RTS Carbetocin used for the prevention of excessive bleeding after delivery of pregnant women (postpartum haemorrhage, PPH) was organised by JNMC Women's and Children's Health Research Unit, KLE Academy of Higher Education and Research (Deemed-to-be-University) at KLE Centenary Convention Center, JNMC Campus on 23rd July 2021 at 10.30AM. The first injection of RTS Carbetocin was administered at KLES Dr Prabhakar Kore Charitable Hospital on this day. JNMC Women's and Childen's Health Research Unit donated 1000 medication ampules to KLES Dr Prabhakar Kore Charitable Hospital, Belagavi.
The program was presided by Dr Prabhakar Kore, Chairman, KLE Society and Honourable Chancellor, KLE Academy of Higher Education and Research (KAHER), Belagavi and was attended by leading obstetricians including Dr Shanta Kumari, President Federation of Obstericians and Gynecologists Societies of India (FOGSI), Treasurer, International Federation of Gynecology and Obstetrics (FIGO), Senior Consultant OBGYN, Yashoda Hospitals, Hyderabad, Dr Hema Divakar, Consultant OBGYN & Medical Director, Divakar's Speciality Hospital, Bengaluru & Co-Chair FIGO Pregnancy and NCD Committee, Dr Sheela Mane, Past Vice-President FOGSI and Governing Council Member ICOG, Dr Basavaraj Sajjan, President, Karnataka State Obstetrics and Gynecology Association, Representatives from Ferring Pharmaceuticals, Switzerland – Mr. Sudheendra Kulkarni, Mr. Bhavin Vaid, Dr. Vishal Shah, Mr. Oleg Zurov, Ms. Moniqquue Blom and Mr. Alok Dev were present during the program.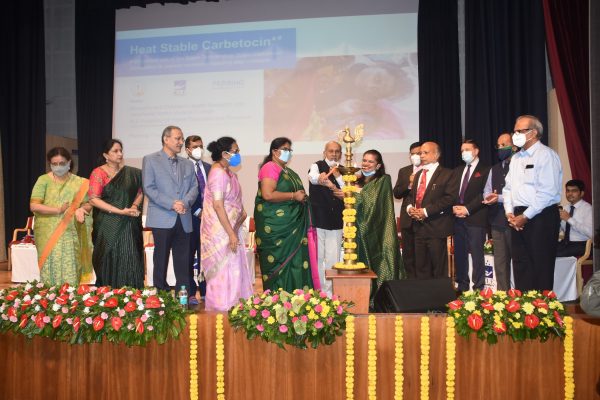 Dr Vivek A. Saoji, Vice-Chancellor, KLE Academy of Higher Education and Research gave introductory remarks. Dr Shivaprasad Goudar, Director-Research, KAHER gave a background regarding the Interventions for Prevention of Post-partum Hemorrhage. Dr. V. A. Kothiwale, Registrar, KAHER and Dr N S Mahatashetti, Principal, J N Medical College felicitated the guests of honour. Senior Research Officer Dr N V Honnungar was felicitated for his contributions for the Maternal and Child Health Research. The program was attended by the study investigators, obstetricians, doctors and research officers all over the country both offline as well as virtually. Dr Yeshita V Pujar, Professor of OBGYN proposed the vote of thanks and Dr Avinash Kavi, Associate Professor of Community Medicine was the master of the ceremony.